Ich würde euch hier wahnsinnig gerne einen coolen Fashion-Blogpost bieten, aber das kann ich nicht bringen. Zu groß ist die Aufregung über die Tatsache, dass ich das hier überhaupt machen darf. Also wird das einer von den Stories der Kategorie "rührselig".
Denn unter uns: Ich fühle mich geehrt. Sehr geehrt. H&M hätte ja eine Bloggerin wählen können, die das mit den Fashionposts besser drauf hat, mehr Follower hat oder einfach "klassischer ist" als ich es bin. Aber sie haben sich für mich entschieden. "Wir wollen auch jemanden dabei haben, der authentisch ist für Kenzo x H&M. Jemand urbanen, der auch mal was zu sagen hat und sich optisch auch abhebt!" waren die Worte, die man benutzt hat, um mich zu überzeugen. Sie waren gar nicht notwendig, (ich hätte sowieso ja gesagt) aber sie gingen trotzdem runter wie Öl.
Ich will euch nicht anlügen, es tat gut Anerkennung für etwas zu bekommen, dass ganz anders und weniger fancy ist als das, was viele meiner Bloggerkollegen machen. Es tat gut, dass sich ein Weltunternehmen für mich entschied, obwohl mein Instagram-Feed nicht farblich abgestimmt ist, meine Hautfarbe in der Bloggersphäre (noch) nicht der Norm entspricht und ich ab und zu auch über Sachen schreibe, die manchen Menschen unangenehm aufstoßen.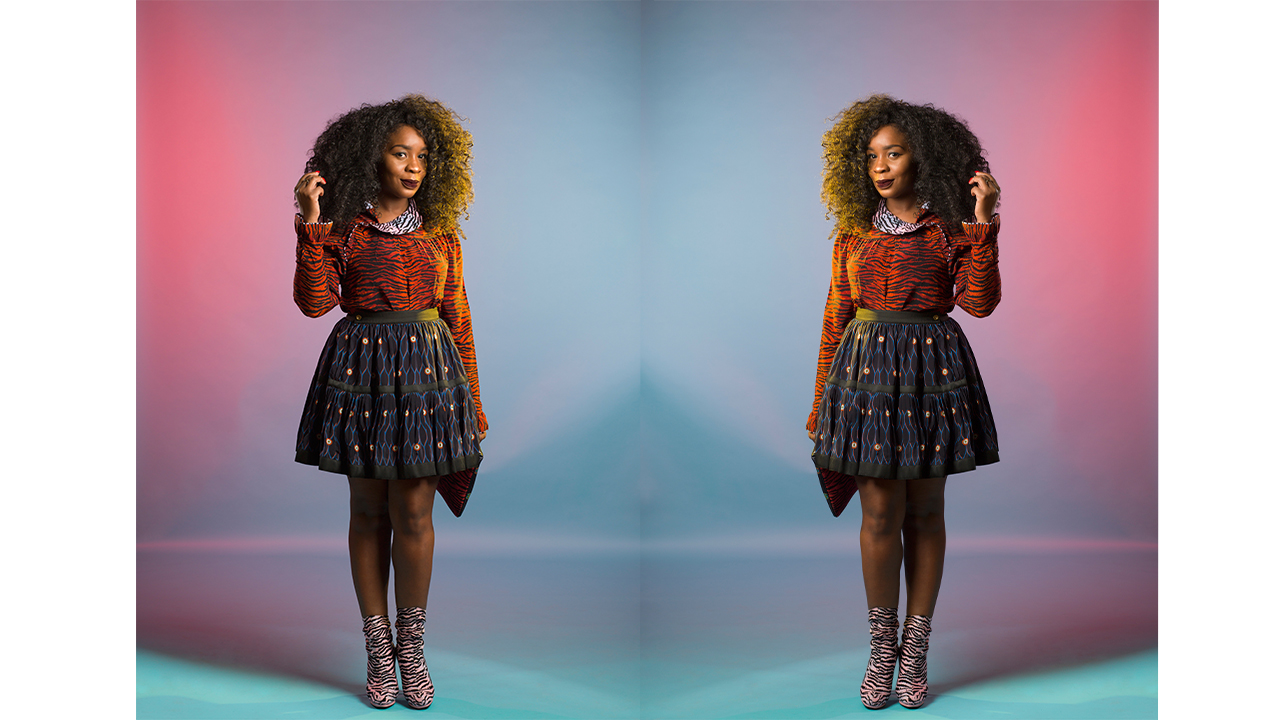 Und genau darum geht es bei der Kooperation von Kenzo x H&M. Sie ist anders. Beim ersten Anblick ein bisschen viel und wahnsinnig laut – optisch laut, wenn ihr versteht was ich meine. Man muss die Teile auf sich wirken lassen. Dann versteht man sie erst und ich schätze mal das ist bei mir genau so. Damit kann ich ganz gut leben. Denn ich fühle mich immer öfter verstanden und immer weniger missverstanden.
Wenn ihr am 3. November also in den H&M – Store eures Vertrauens geht, dann lasst die Scheu vor der Tür. Damit kommt ihr bei dieser Designer-Kooperation nicht weit. Go wild. Traut euch and don't even try to be like the rest of them. Wobei das ergibt sich in den Teilen des französischen Labels ohnehin von selbst. Die bunten Prints, der legendäre Tigerkopf und die Art und Weise wie die Kooperation geschnitten ist, wirken wie ein Wunder auf's Selbstbewusstsein und das jetzt schon seit 50 Jahren.
Die Kollektion von Kenzo X H&M sind in Filialen des schwedischen Textilriesens und online erhältlich.
Credits & Love:
Und bevor ich mich vor lauter Überwältigung in eine Ecke setze und zu weinen beginne, muss ich mich dringendst bei Markus Thums für die tollen Fotos und die Geduld bedanken. Bei den Übermenschen von studiounlabeled für ihr Creative Art (Magic) und den Fakt, dass sie ich immer noch lieben, obwohl ich ein mega pain in their ass war. Bei Mirza, der mich in einen 36er-Rock gequetscht hat und mich immer wieder daran erinnert, dass ich mich zusammen reißen muss. Danke Youngrbl für das atemberaubende Make-Up, das Mini-Tutorial und den Support und last but not least: danke Bruderherz Phillip für alles und noch mehr … und das Essen
*MicDrop* *LeavesVirtualStageToCryOutOfJoy*
Ich bin übrigens auch auf Snapchat (christlclear) und Instastories (iamchristlclear). Da bekommt ihr Einblick in meinen Alltag und zum Pre-Shooping von Kenzo x H&M am 2. November nehme ich euch dann auch mit.
Ähnliche Beiträge