Wenn man mir vor zwei Jahren gesagt hätte, dass ich extra das Land verlasse, um auf ein Festival zu gehen, hätte ich laut gelacht. Und jetzt sitze ich hier und schreibe einen Blogpost darüber, dass ich zu einem internationalem Festival fahre und was ich dazu anziehen soll.
Aber, was hätte ich machen sollen: Es ist das Lighthouse Festival in Porec, wo die Bühnen im Wald oder direkt am Wasser sind. Hätte ich da "Nein" sagen sollen? Nein!
Also schippere ich nach Kroatien und das mit einem Styling von Zalando im Koffer … oder im Rucksack. Ich hab' mich noch nicht ganz entschieden. Spätestens jetzt ist jedem klar: ich war nie eines von den Cool-Kids, die auf Festivals gefahren sind und hunderte Armbänder gesammelt haben, geschweige denn dort übernachtet haben. Ich hab's maximal auf's Wiener Donauinselfest geschafft. But that's about to change. Lighthouse Festival it is und weil es so gut wie unmöglich ist herauszufinden, welche Musik-Acts mich dort erwarten, befasse ich mich in der Zwischenzeit einfach mit meinen Outfits.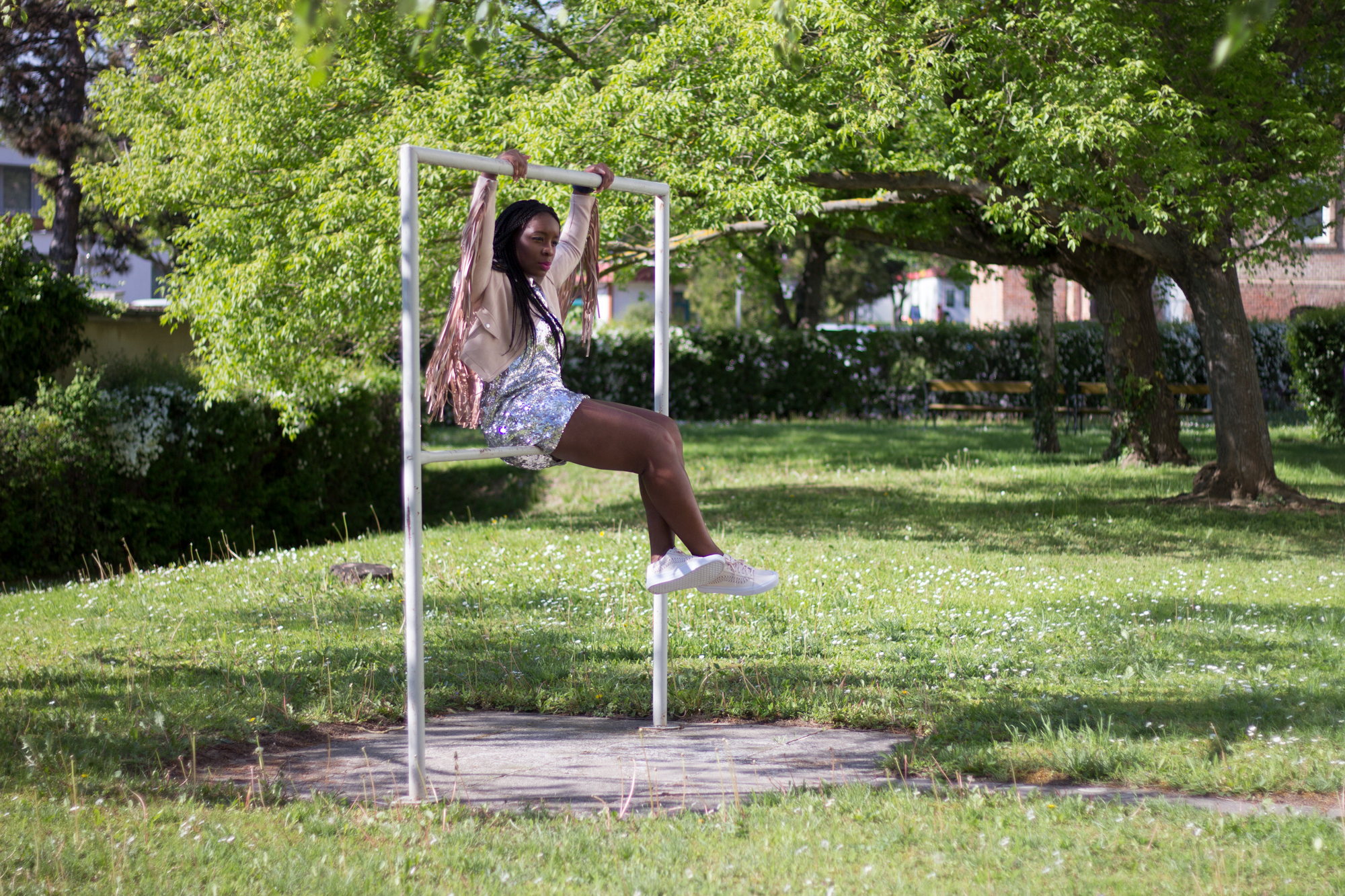 Nun, ich hätte mich in Jeans-Hotpants, Boots und irgendein Band-Croptop werfen können. Aber das kann jeder. Also habe ich mich für ein Glitzerkleid entschieden. Jaaaa, ein Glitzerkleid und das werde ich mit einer rosafarbenen Fransenjacke kombinieren. Und wisst ihr wieso? Weil ich Bock drauf habe.
Glitzer ist meine Lieblingsfarbe und Fransen bewirken irgendwas in meiner Persönlichkeit, also habe ich das ganze mit Vans kombiniert und irgendwie war ein Look geboren. Ein sehr praktischer sogar. Denn wenn ich und mein nichtsnutziger Orientierungssinn irgendwo im kroatischen Wald verloren gehen, findet man mich ganz leicht. Ich bin ja die, die glitzert.
Es ist allerdings auch gut möglich, dass ich die bin, die randomly vogued, weil die Fransen es nicht anders zulassen.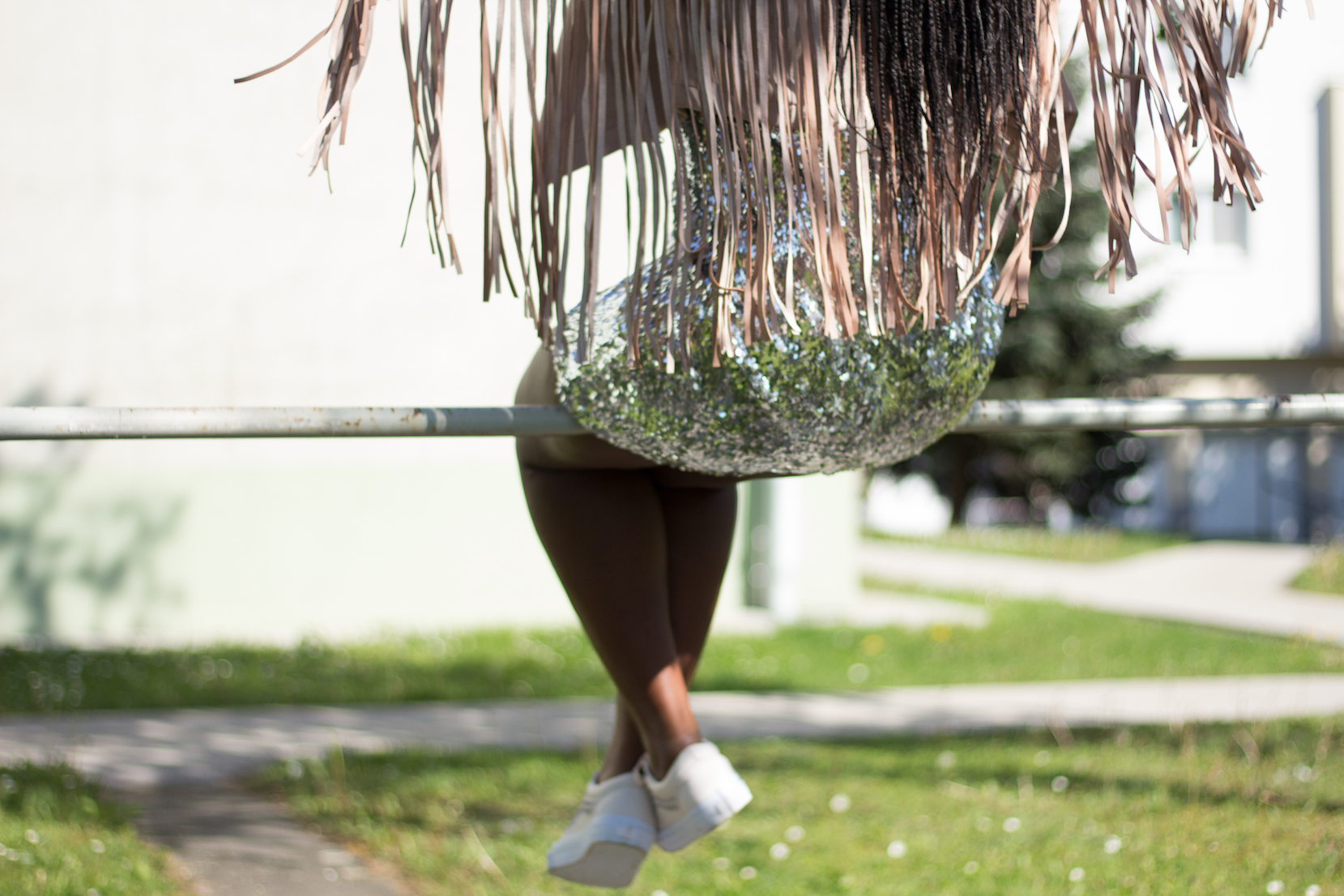 Ich habe mich aber nicht nur vom Glitzer leiten lassen, als ich mir das Kleid und die Jacke bei Zalando bestellt habe, ich habe mir tatsächlich etwas überlegt. Auch, wenn man es nicht gleich checkt. Aber sollte es – dank Globalwarming – kalt werden, kommt einfach eine Netzstrumpfhose zum Look dazu. Und wenn's warm wird, binde ich mir die Jacke um die Hüfte und funktioniere sie einfach zu einem Gürtel um, so hat mein A-förmiges Glitterkleid plötzlich einen ganz anderen Schnitt und Vibe.
Apropos Vibe. Ich habe das Gefühl, dass der auch mich vor Ort einfangen wird und das obwohl ich nicht der größte Electro-Fan bin. Dafür bin ich eine Musik-Liebhaberin. Das, in Kombination mit einem Festival, das am Meer und im Wald stattfindet, wird der nackte Wahnsinn!
Den ich übrigens mit der Kamera festhalten werde. So watch out, there's more to come!
What I'm wearing:
Jacke: Missguided
Kleid: Londunn
Sneakers: Vans
Who shot me:
Studiounlabeled
Mit freundlicher Unterstützung von Zalando
Ähnliche Beiträge