Ohhhh wie ich Throwback Thursdays liebe! Abgesehen davon, dass sie mich daran erinnern wie schnell die Zeit vergeht und dass ich alt werde, macht es Spaß in Erinnerungen zu schwelgen und sich einzureden, dass früher alles besser war.
Die Musik, das Essen, die Erziehung, das Festnetz und die Mode natürlich. Wobei ich letzteres mit meinem Throwback-Thursday-Objekt widerlegen kann.
Denn ich rufe euch heute den FILA GRUNGE in Erinnerung.
Schätzomativ hatte dieser Schuh seinen Durchbruch Mitte der 90er. Damals allerdings in beige. Die Farben schwarz und braun wurden erst späte ins Sortiment aufgenommen. Kombiniert mit einer Hose von Dickies und einem Timberland-Pullover war man zumindest in der Wiener Hip Hop Szene (d.h.: am Schwedenplatz und im Volksgarten), ganz vorne mit dabei.
Vermutlich habe ich damals drei Monate lange nichts gegessen, um mir diese Boots für 1500 Schilling leisten zu können. Rückblickend hätte ich das Geld in Essen investieren sollen. Denn der Fila Grunge ist zwar wasserdicht und rutschfest, aber keine Augenweide. Für kein Geld dieser Welt würde ich sie heute kaufen – geschweige denn tragen!!!
Es kann sich also nur noch um Tage handeln bis ein besonders "stylisher" Hipster sie wieder ausgräbt und zum Fashion-Item of The Season macht. In diesem Fall weise ich sehr gerne darauf hin, dass sie heute ca. € 100,- kosten und tatsächlich noch bei Intersport erhältlich sind!
DIE ESSENTIALS im Überblick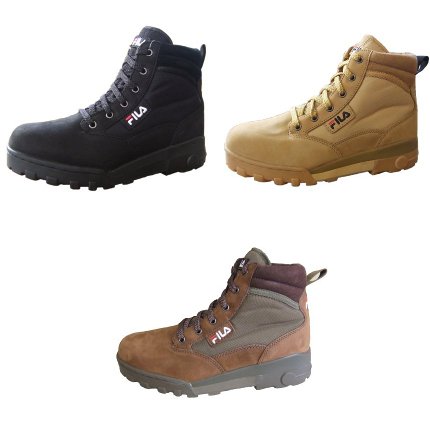 Ähnliche Beiträge