Wisst ihr was ich mich schon immer gefragt habe: Wie wird man ein Morgenmensch? Ich bin so weit davon entfernt, dass ich es mir gar nicht vorstellen kann.
Mein Wecker läutet um 6h30, damit ich um 8h aufstehen kann. Dazwischen snooze ich so lange bis selbst mein (Handy)wecker aggressiv wird. Dabei trägt er auch Schuld, dass ich leide. Denn egal wie sanft der Ton ist, der mich wecken soll, ich packe es nie.
Das könnte sich dank Guillaume Rolland ändern. Der 19jährige Student hat mit dem Sensorwake einen Wecker entwickelt, der mit Gerüchen weckt.
Stellt euch vor ihr werdet nicht von widerlichen Gepiepse geweckt, sondern von dem Aroma frisch gerösteten Kaffees oder frisch gebackener Croissants! Wer keinen Kaffee mag oder gerade auf Lowcarb unterwegs ist, kann sich zwischen vielen anderen Düften – Meeresluft und Schokolade etwa – entscheiden. Die Aromen kommen aus der Kapsel, die bis zu 30 Tage halten.
Rollande hat natürlich nicht auf die Tiefschläfer vergessen und ein System entwickelt. Für die, die nur schwer wach werden oder eine verstopfte Nasen haben – that would be me – geht nach drei Minuten ein "klassischer" Alarm los, der einen auf die brutale Art und Weise weckt. Aber bis zu 99% der Menschen wurden spätestens nach zwei Minuten munter.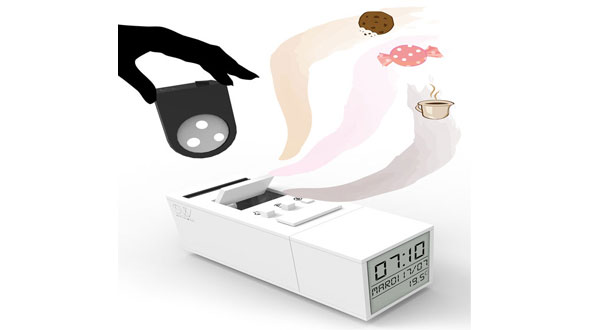 Eigentlich ist das ganze ja eine geile Idee wäre da nicht die Sache mit dem Heißhunger. Die Chancen, dass man direkt vom Schlafzimmer in die nächstgelegene Bäckerei einfällt und alle Croissants kauft, um sie unkontrolliert in sich hineinzustopfen. Das ist ein Risiko, das man wohl auf sich nehmen muss, wenn man sich den "Sensorwake" für knapp € 80,– bestellt.
Das geht übrigens erst ab Juni 2016, dann kommt das kleine Wunderwerk auf den Markt!
Ähnliche Beiträge