Ich will nicht lügen, die Überraschung war groß als meine Freundin Dominique vor einem Jahr mir offenbarte, dass sie ein Steakrestaurant eröffnen möchte. Das kam irgendwie aus dem Nichts für mich.
Soll der HTL-Abschluss, das Wirtschaftsstudium und die jahrelange Arbeit im Telekommunikationsbusiness umsonst gewesen sein? Warum jetzt Gastronomie? Wiesooo?
Und während ich die Antworten zu diesen Fragen suchte, erinnerte ich mich an meinen verrückten Freundeskreis (voller Menschen, die sich selbstverwirklichen und ihren Träumen nacheifern) Musiker, Produzent, Schauspielerin, Tänzer, Maler, Koch, Art Director, Creative Director, Model, Comedian, Beautysalon Besitzerin. Why the hell not a Restaurantbesitzerin?
Die Fragen waren vom Tisch und Dominique relativ schnell im "Klub der Mutigen" aufgenommen.
Mindestens genau so schnell holte sie ihre Schwester Janine ins Boot, fand eine Location und der Rest ist Geschichte, die offziell am 2.Dezember 2015 seinen Anfang finden wird.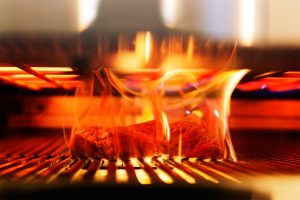 "Door No. 8" ist der Name des exklusiven Restaurants, das nichts mit den Steaklokalen zu tun hat, die ihr kennt. This is the real shit …
Das Fleisch kommt extra aus Südamerika, Neuseeland und Nordamerika und wird nicht einfach in der Pfanne und/oder dem Holzofen zubereitet, sondern langsam bei niedriger Temperatur gegart und dann in einem Hochtemperaturofen bei 1000 Grad gegrillt. Das Ergebnis ist ein ultimatives Geschmackserlebnis, das FleischliebhaberInnen, wie mich, in die Knie zwingen wird.
Und weil das natürlich nur die halbe Miete ist, verdient auch die Einrichtung eine Erwähnung in diesem Beitrag. Wer nämlich nach schweren Ledersitzen, dunklen Farben, verrauchter Optik und dunklem Holz sucht, ist bei "Door No.8" falsch. Hier dominiert der Shabby Chic, Beton, Bronze, helle Töne und viel – unfassbar viel – Liebe für's Detail.
Alles in allem wird das eine runde Geschichte, wenn der Startschuß einmal gefallen ist. Dann eröffnet "Door No.8" offiziell und für meine Freundinnen beginnt ein neuer Lebensabschnitt!
An dieser Stelle bleibt auch nicht mehr viel worüber ich schwärmen kann. Diese Mädels tun mit der Eröffnung ihrer Restaurants am 2.Dezember genau das, was wir alle tun sollten. Sie haben auf jeden geschissen, der ihnen gesagt hat, dass sie es nicht schaffen – nope, ich hab's nicht vergessen – und verwirklichen ihren Traum.
Alles richtig gemacht, Ladies!
Alle Infos, die ihr für eine Reservierung braucht, findet ihr hier:
DOOR No. 8
Neubaugasse 8,
1070 Wien
Reservierungen:
Tel. +43 1 522 0392
Mail. contact@door8.at
Web. www.door8.at
Facebook
Ähnliche Beiträge