Am Tag nach der diesjährigen Emmy-Verleihung wollte man nicht in Lena Dunhams Haut stecken. Der 28-jährige Serienstar wurde quasi über Nacht zum Opfer eines Styling-Shitstorms. Und das alles nur wegen diesem Kleid von Giambattista Valli: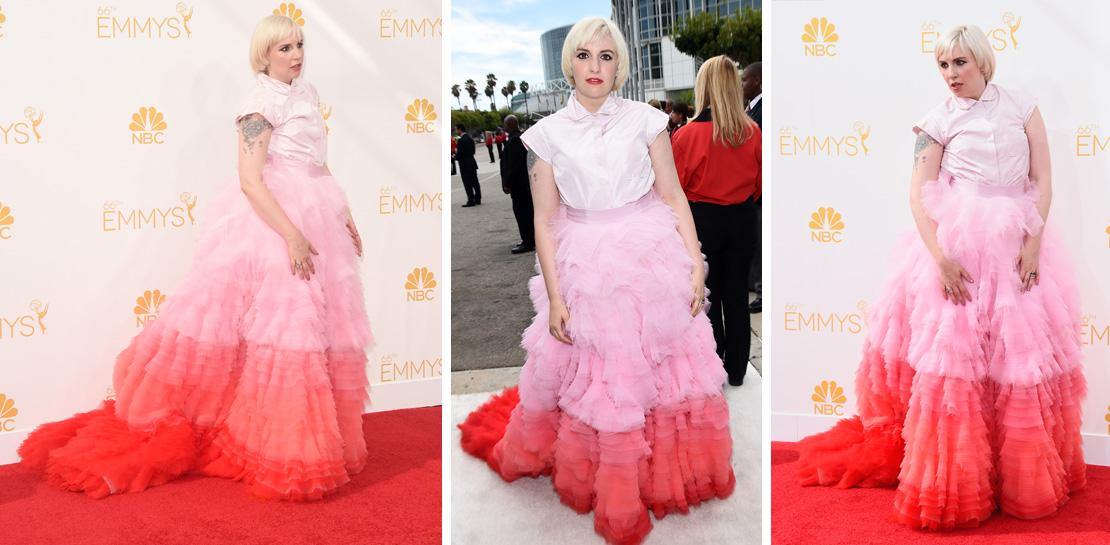 Dabei finde ich das Kleid fabelhaft. Ja, es ist mit seiner Kurzarm-Bluse und den abermillionen Rüschen etwas unkonventionell für eine Awardverleihung, aber das macht es doch nicht hässlich. Ganz im Gegenteil, ich finde es irgendwie geil.
Abgesehen davon, dass Lena Dunham ohnehin tragen kann was sie möchte. Sie ist schließlich die Produzentin und Hauptdarstellerin von "GIRLS", der besten Frauenserie seit "Sex and The City". In der sich Dunham oft nackt oder in fragwürdigen Outfits zeigt und das trotz Magerwahn. Sie muss längst niemanden mehr etwas beweisen. Außerdem will kein Mensch Lena Dunham in einer "normalen" Robe sehen.
Von mir gibt's also 100 Punkte. Zwar nicht für atemberaubende Schönheit, sondern für Coolness, Mut und Zündung meines Heißhungers, weil mich das Kleid irgendwie doch an eine "Ombre Torte" erinnert.
Ähnliche Beiträge