Haltet die Welt an! Zumindest die erste! Denn Nintendo bringt das Nintendo Entertainment System wieder auf den Markt. Nur in Mini.
Ohne Witz, der japanische Videospiel-Gigant bringt den Konsolenhit aus dem Jahre 1986 wieder raus und wir sind mittlerweile nicht mehr darauf angewiesen, dass uns die erwachsenen Familienmitglieder einen zum Geburtstag oder zu Weihnachten schenken. Wir sind ja mittlerweile die Erwachsenen. Und weil das Nintendo Classic Mini: NES nur knapp $ 60,– kosten wird, wird das Loch, das es in unsere Geldbörsen brennt, nicht allzu groß werden.
So weit, so gut, aber es geht besser: Die Mini-Konsole hat 30 vorinstallierte Spieleklassiker. Wie Pac Man, Super Mario Bros., Donkey Kong und The Legend of Zelda.
Man muss sich also keine Module kaufen und einen Controller wird auch mitgeliefert. Strom kommt über das USB-Kabel und ein HDMI-Port gibt es auch, um das Mini-Nintendo-Entertainment-System an einen Fernseher anzuschließen.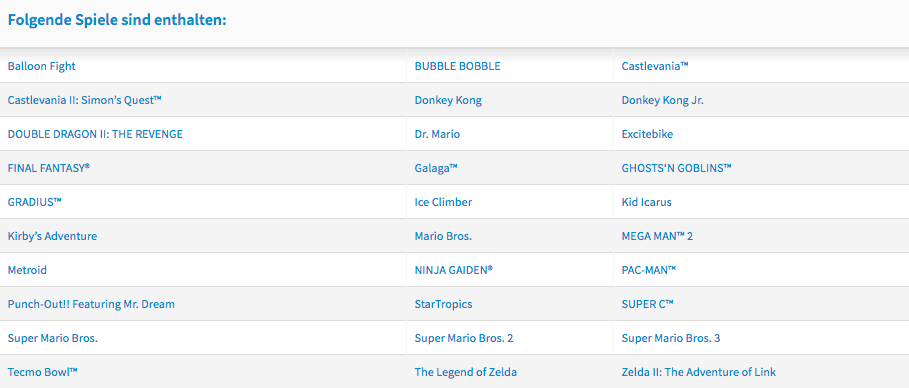 Jetzt muss mir nur noch jemand sagen wo ich unterschreiben muss, um das Ding testen zu können! Ich wäre nämlich schon mehr als bereit. Ob ich es bis zum offiziellen Releasedate am 11. November schaffe, weiß ich nicht. Aber, wenn es sein muss, warte ich auch bis dahin. 😳
Weitere Infos zum Nintendo Classic Mini: Nintendo Entertainment System (heißt wirklich so!) gibt's hier und hier.
Auf Snapchat unter

christlclear

könnt ihr beobachten wie ich so gar keine Ahnung von diesen modernen Konsolen habe und Mr.Clear deswegen den letzten Nerv koste.
Ähnliche Beiträge