Um Himmels Willen! Wo ist denn der Ton, wenn man ihn braucht!?
Wir wollen doch wissen was Jay Z getan hat, dass seine Schwägerin Solange so anpisst, dass ihr nach eine Afterparty der MET-Gala im Aufzug sämtliche Sicherungen durchbrennen?!
Ab jetzt können die Carters noch so viele Happy-Family-Fotos von sich auf den Social-Media-Plattformen der Welt posten! Wir glauben euch kein Wort mehr!
Irgendwas hat Jay Z getan, um die Knowles-Schwester(n) auf die Palme zu bringen … wie man an diesem dreiminütigen Video erkennen kann.
Es kann aber auch sein, dass Solange den Alkohol nicht so gut verträgt und ihre Aggressionen gegenüber ihrem Schwager nicht mehr unter Kontrolle hat. So etwas passiert der einen oder anderen Frau schon einmal.
Aber seht selbst!
Beyoncés kleine Schwester lässt sich wohl nichts gefallen! Was auch immer sie anpisst, sie lässt Jay Z wissen und zwar mit Tritten und Schlägen. Dass vor ihr DER Hip Hop Mogul schlecht hin steht, interessiert sie in dem Moment scheinbar nicht.
Solange hat eine Mission: "Whoop the shit out of Jay Z" und der geht sich mit Zielsicherheit nach.
Er zählt zu den erfolgreichsten Rappern der Welt und lässt die Schläge über sich ergehen. Ab und zu versucht er Solange abzuhalten und zieht ihr dabei den Schuh aus. Das ist aber auch das höchste der Gefühle. Shawn Carter bleibt ein Gentleman und schlägt nicht zurück. Das will man ja auch hoffen …
Während dieser drei Minuten rührt Beyoncé keinen Finger! Weder, um ihre Schwester davon abzuhalten auf ihren Mann einzuschlagen, noch um ihren Mann zu schützen.
Es könnte also seine, dass Jay Z Scheiße gebaut hat und Solange die Arbeit für die erledigt.
Fotos wie dieses hier, wird es wohl länger nicht mehr geben…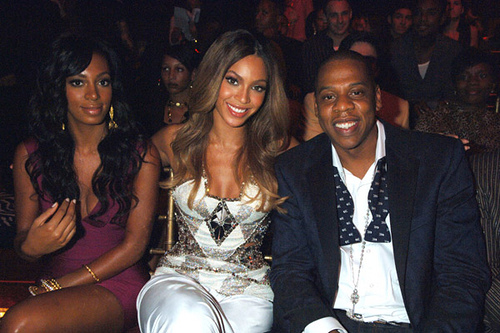 Ähnliche Beiträge