Nasen-OP ohne OP? Dr. Simon Ourion macht es möglich. Der Mann, der Kylie Jenner zu ihren dezenten Schlauchboot-Lippen verholfen hat, weiß wie's geht. Alles, was er braucht sind ein paar Füller und mehrere tausend Dollar, um loszulegen.
Angeblich schafft er es die optimale Nase – was auch immer das sein soll – mit ein paar Spritzen hier und da verschwinden zu lassen. "If we inject fillers into the bridge to build it up, the whole nose will look more in proportion. It's a case of getting the proportions correct so even though we are adding volume with the filler, the nose overall will appear smaller" erklärt der Beauty-Doc aus Beverly Hills. Kennt ihr euch aus? Nein? Macht nichts, ich auch nicht. 
Aber wer einen Blick auf seinen Instagram-Account wirft, wird feststellen, dass dieser Mann offensichtlich weiß wovon er spricht. Nicht umsonst wird er auf Bussi-Bussi mit Lady Gaga, Sofia Vergara, den Kardashians und anderen Promis sein. Bessere Referenzen bekommt man heutzutage ohnehin nicht mehr.
Joanna Della-Rarione aus London zählt zu den "Normalos", die zwar nicht unglücklich war mit ihrer Nase, aber sie trotzdem hat machen lassen – yeeeeeeah right!  "I wasn't unhappy with my nose as it was, but I didn't like the deep curve in the bridge. Seeing the pictures on Dr. Ourian's Instagram page made me realise it could be refined and improved without too much pain and downtime."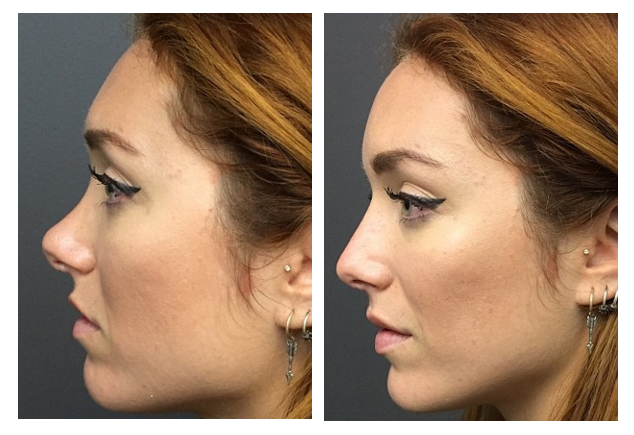 Der Unterschied zwischen vorher (links) und nachher (rechts) ist klar sichtbar und auch ganz hübsch. Das war sie aber vorher auch schon, wenn ihr mich fragt.
Dr.Ourian kann übrigens auch Haare implantieren, Gesichter liften und Kinns korrigieren und andere Dinge mit dem menschlichen Körper machen, wenn er genug Geld dafür bekommt. Eine neue Nase kosten zwischen € 1400,– und € 2800,–, je nachdem welcher Filler benutzt wird. Und wer eine lebenslange Garantie sucht, wird jetzt traurig sein. Denn auch hier hängt es von der Art des Füllstoffs ab: Mit dem preisgünstigen, Restylane, ist das Ergebnis etwa sechs Monaten sichtbar; mit Voluma, dem teuerste Stoff, bleibt das Ergebnis über zwei Jahre sichtbar.
Ich weiß jetzt, wie ich eine Beauty-Op-Frage stelle, wenn ich jemals einen Kardashian in die Finger bekomme, denn "Hast du dich schon mal unter's Messer gelegt?" ist definitiv nicht die richtige Fragestellung. That much is christlclear!
Ähnliche Beiträge