Könnt ihr euch noch an die Hoverboard-Geschichte erinnern? Tja, die war ein Fake.
Aus einem mir nicht erklärlichen Grund hat noch niemand das fliegendes Skateboard aus "Zurück in die Zukunft" erfolgreich nachgebaut!
Dafür hat Nike immerhin 2011 den "Air Mag" heraus gebracht. Von dem Schuh, der an die von Marty McFly angeleht waren, gab es damals nur 1500 Stück. Diese konnte man auf ebay für einen Betrag ab $ 10000,- ersteigern. Wobei das teuerste Paar für $ 90002,- (!!!!) wegging.
Darauf komme ich allerdings nur klar, weil man diese Schuhe via Knopfdruck einschalten kann und weil der Erlös der Sneakers an die Michael J. Fox Foundation ging.
Drei Jahre später kommt der Schuh mit der leuchtenden Sohle wieder auf den Markt. Allerdings nicht von Nike, sondern von DIESEM Kostümshop in Amerika. Die verkaufen eine Kopie des "Back To The Future 2"-Schuhs für knapp $ 99,- inklusive passender Box.  Das Modell ist im Moment zwar ausverkauft, aber ab dem 30.September wieder erhältlich.
Für all jene unter euch, die zu viel Geld und zu wenig Leben haben: Der Release des neuen Air Mag ist für 2015 geplant.
Aber ich warne euch gleich, der Besitz dieser Treter macht euch nicht cool. Ihr werdet stiefelartige Schuhe tragen, die wie Kinderschuhe leuchten und Klettverschlüsse haben. Lasst euch das doch noch einmal durch den Kopf gehen bevor ihr zu viel Geld für die Schuhe, den Versand und den Zoll hinblättert. Just sayin'…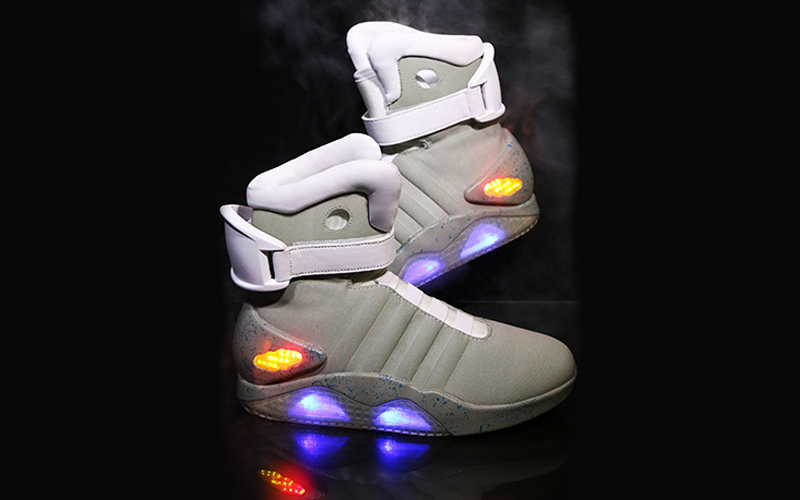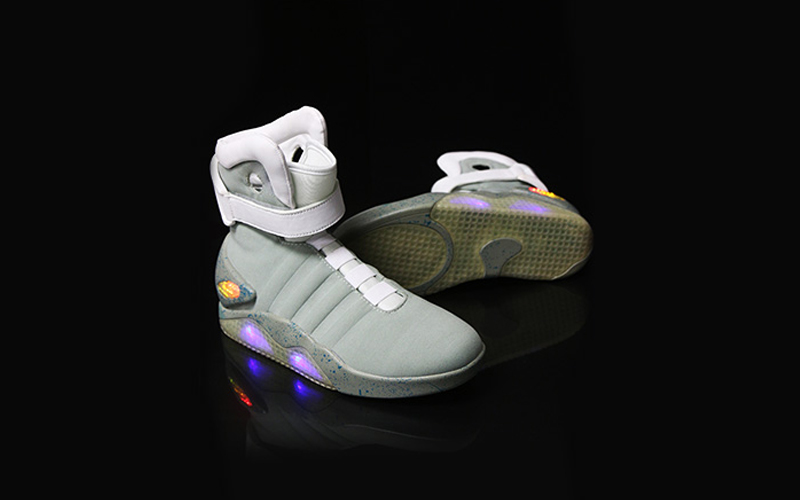 Ähnliche Beiträge