Auf Kendrick Lamar ist Verlass! Ohne dem Rapper hätte man die 58. Grammys gestern nur schwer durchgedrückt. So gewann er fünf der 12 Grammy für die er nominiert war – unter anderem Best Rap Album für "To Pimp A Butterfly" – und feierte sich selbst und die Black Community mit einer Performance, die so powerful war, dass ich ihm in meinem Wohnzimmer Standing Ovations geben musste.
Taylor Swift, die als einzige Frau in der Geschichte der Grammys, zwei Mal hintereinander die Kategorie 'Bestes Album' mit "1989" für sich entscheiden konnte, hielt eine rührende Dankesrede und machte eine Anspielung nach der anderen in Richtung West(en). Kanye und sie haben Beef seitdem der Rapper Taylor Swift mit den Zeilen "I feel like me and Taylor might still have sex / Why? I made that bitch famous" auf seinem neuen Album verewigt hat.
Adele war auch da, um ihre Single "All I have" zu performen und hatte wahnsinniges Pech. Ich meine, das muss einem einmal passieren. Da bist du Adele, die Balladensängerin von der ohnehin alle schon zweifeln, dass du mit dieser Stimme ein echter Mensch bist und dann verkackt die Technik während die ganze Welt zusieht. Man muss allerdings dazu sagen, dass sie selbst dann immer noch tausend Mal besser klingt als die meisten Musiker, die gestern im Publikum gesessen sind. Und schlechte Promo ist immer noch Promo, oder?!
Lady Gaga performte mit Nile Rodgers zu Ehren von David Bowie ein Medley wie eben nur Lady Gaga performen kann und …
… und Johnny Depp spielte ein Gitarrensolo mit Metal-Ikone Alice Cooper und dem Rest der Boyband "The Hollywood Vampires", bestehend aus Aerosmiths Joe Perry und Guns N' Roses' Duff McKagan und Matt Sorum, um Motörhead Frontmann Lemmy Kilmister zu ehren.
Das war's aber auch schon mit Highlights. Der Rest der Grammy's verlief wie immer unspektakulär. Also kann man eigentlich nur noch über die Red Carpet Looks sprechen, die selbst auch nicht sooooo aufregend waren.
Ariana Grande hatte den selben hohen Pferdeschwanz wie die letzten 3000 Male, Lady Gaga musste wohl direkt nach ihrem Auftritt auf ein Kostümfest, Taylor Swift trug wie so oft ein Crop Top, Zendaya eine schwierige Perücke und Ciara zeigte mal wieder ein bisschen zu viel Haut, um als "classy" durchzugehen. Same, same, but different eben.
Hier sind die 30 spannendsten Looks vom Roten Teppich, die ihr gesehen haben müsst:
[justified_image_grid]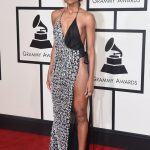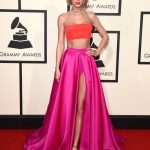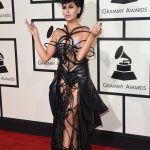 Bilder via Pinterest
Ähnliche Beiträge