Aber freut euch nicht zu sehr, es sei denn ihr habt ein paar Millionen Dollar auf der Kante. Denn genau so viel kostet das eine Album!
Denn wenn ich sage "das eine", dann meine ich auch "das eine". Mehr wird es nämlich von diesem Album nicht geben. 

"Once Upon A Time In Shaolin" ist ein geheimes Album, dass der Wu-Tang Clan veröffentlicht, um auf die langersehnte LP "A Better Tomorrow", die sich dann alle leisten können, aufmerksam zu machen.
Die sollte zum 20jährigen Jubiläum der Gruppe diesen Sommer erscheinen. Wenn's wahr ist….
Das Album wird in Museen, Gallerien und Festivals ausgestellt, wo man zwar für einen Musikbeitrag rein hören, aber nicht gleich kaufen kann. Erst am Ende der "Tour" kann man die eine Platte, die in einer gravierten Edelstahl-Box kommt und aus 31 Songs besteht, ersteigern. Und zwar für einen Betrag in Millionen Höhe!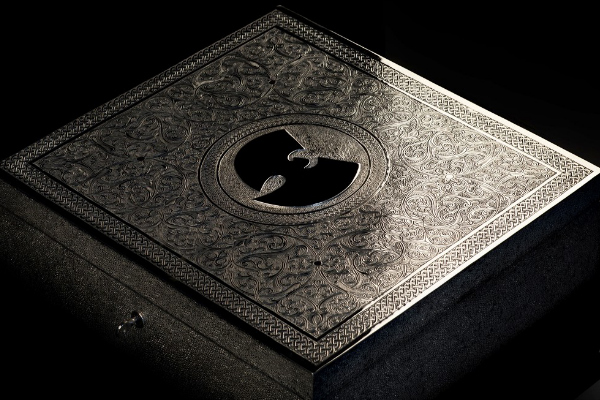 RZA erklärt in einem Interview: "We're about to put out a piece of art like nobody else has done in the history of music. We're making a single-sale collector's item!"
Stellt euch mal vor, was los ist, wenn irgendein daher gelaufenes Rich-Kid beschließt es zu kaufen?! Ein Gedanke, den ich lieber gar nicht erst weiter spinnen möchte. Ich kann mir allerdings beim besten Willen nicht vorstellen, dass irgendwer da draußen diese Scheibe kauft!
Das macht ja auch keinen Spaß, wenn man eine Platte hat, die man am besten nur alleine hört, weil man Gefahr läuft von den Engsten ausgeraubt zu werden. Ins Internet kann man sie auch nicht stellen, es wüsste ja dann jeder, wer's war. Und überhaupt ist man relativ schnell eine Persona non grate, wenn man "Once Upon A Time In Shaolin" besitzt, denn es wird sich niemand für einen freuen.
Also lässt man es am besten gleich bleiben, oder?!
Dem Wu-Tang Clan gebührt an dieser Stelle stehende Ovationen, denn das ist einmal eine Promo-Aktion, die sich sehen lassen kann.
Ähnliche Beiträge