In dieser Woche wollte man ausnahmsweise kein Mitglied der Familie Knowles-Carter sein. Die Prügelaffäre über die die ganze Welt spricht oder viel mehr lacht  kratzt gewaltig am goldenen Saubermann-Image von Jay Z, Solange und Beyoncé.
Aber wie geht man am besten mit einer Situation, wie dieser um, wenn im Internet schon Millionen verschiedene Theorien über einen möglichen Grund für den Ausraster kursieren und Memes, wie dieses nur der Anfang sind?!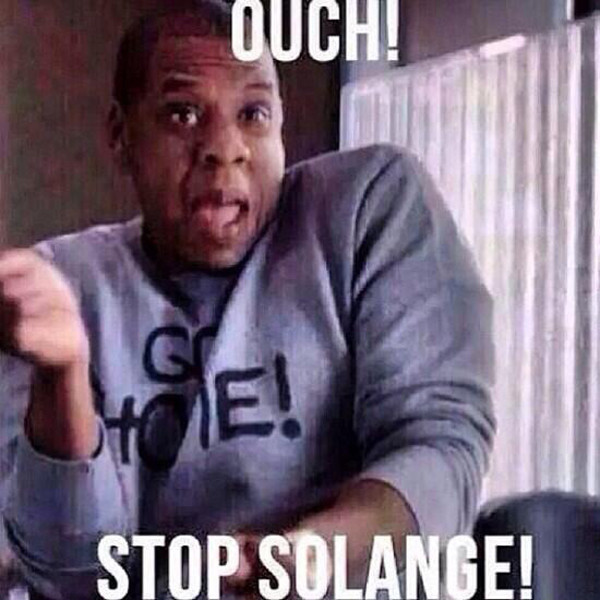 Richtig! Man schießt der neugierigen Menschheit ein öffentliches Statement um die Ohren, dass uns alle ein schlechtes Gewissen macht und Beyoncé, Jay Z und sogar Solange wieder lieb haben lässt:
"As a result of the public release of the elevator security footage from Monday, May 5th, there has been a great deal of speculation about what triggered the unfortunate incident. But the most important thing is that our family has worked through it. Jay and Solange each assume their share of responsibility for what has occurred. They both acknowledge their role in this private matter that has played out in the public. They both have apologized to each other and we have moved forward as a united family."
The reports of Solange being intoxicated or displaying erratic behavior throughout that evening are simply false. At the end of the day families have problems and we're no different. We love each other and above all we are family. We've put this behind us and hope everyone else will do the same."
Und damit ist die Sache auch offiziell im Keim erstickt! Denn wer zwischen den Zeilen lesen kann, wird verstehen, dass da quasi steht "Zerbrecht euch nur weiter den Kopf, aber ihr werdet sowieso nie erfahren, was da abgegangen ist – wir nehmen das mit in unsere Illuminati-Gräber!" 
Was übrigens den Typen anbelangt, der das Video an TMZ geleaked hat: Den erwartet eine saftige Geldstrafe und die Arbeitslosigkeit. Bleibt also für ihn nur zu hoffen, dass er von der Nachrichtenplattform genug für das Tape bezahlt bekommen hat.
Für den unrealistischen Fall, dass ihr das Video nicht gesehen habt oder ihr es euch einfach noch einmal anschauen wollt (es ist ja auch sensationell), könnt ihr das hier nachholen.
Ähnliche Beiträge