Seitdem ich "My Big Fat Gypsy Wedding" gesehen habe, überrascht mich in Sachen Brautmode so gut wie gar nichts mehr – dachte ich. Dann bin ich auf eine Kreation von Gaile Be gestossen. Die amerikanische Designerin hat nämlich ein Hochzeitskleid "genäht", dass stolze 180 Kilogramm wiegt!
Das Gewicht der Robe, die übrigens passenderweise "Fantasy" heißt, setzt sich zusammen aus einer 6,6 m langen und 5,4 m langen Schleppe, die aus über 500000 Glasperlen, 400000 Kristallen und circa 11 km Draht besteht. Das Oberteil wiegt nicht all zu viel, da ist ja auch nicht so viel dran.
Be hat gemeinsam mit 21 anderen Frauen 833 Tage an diesem Kleid gearbeitet, in der Hoffnung, dass es in einem Film gefeatured wird und dann im Museum landet. Sie hatte also noch keinen konkreten Plan als sie begonnen hat Perlen und Glitzersteine aufzufädeln. She just went with the flow.
Das Model, das die Ehre hatte das Kleid für die Fotos zu präsentieren, beschwerte sich darüber wie schwer das Kleid nicht sei und dass es richtig weh tut, es zu tragen. Es ist also nichts für eine konventionelle Hochzeit. Es sei denn man möchte sich als Braut in Richtung Altar schleifen anstatt zu schreiten.
Das Kleid ist nicht käuflich. Nicht etwa, weil Gaile Be eine verwirrte Braut davor bewahren möchte in einem höchst geschmacklosen Kleid zu heiraten, sondern weil es einfach unbezahlbar ist. Gott sei Dank!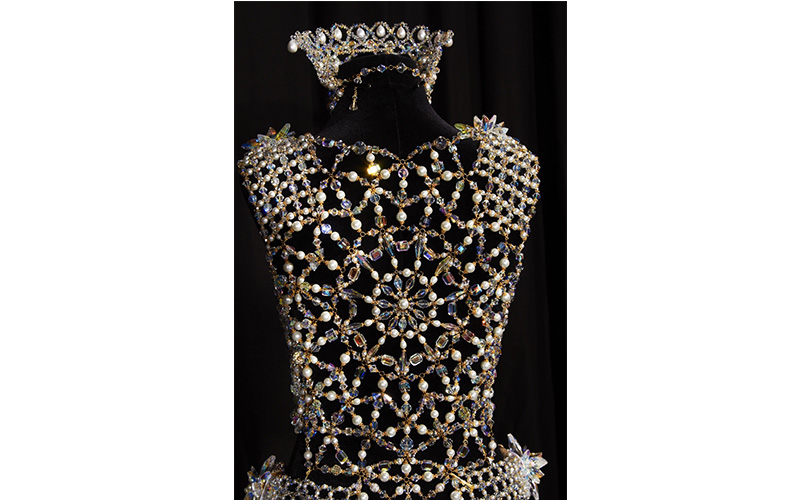 Ähnliche Beiträge